Commercial Hotel - Launceston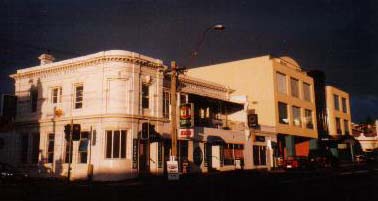 Commercial Hotel -
Launceston
Staggering somewhat, the Wild Man disembarked with us from the Spirit of Tasmania when we finally arrived at the port town of Devonport. Our first images of Tasmania were of Boags signs - fitting we thought, as we licked our lips in anticipation. Wild Man seemed temporarily incapable of acting as our guide, and so we ambled into the main tourist information centre. As we approached the main desk we were somewhat surprised to hear an English accent greet us. Then again, given where he had come from, we weren't that surprised.
Having been given the usual tourist spiel, we decided the best course of action was to head straight to the source: Launceston, home of the Boags Brewery, although we had been warned by our wowser friend that we had better watch out for "all the young people" that reportedly inhabit the place. Apparently, all these young people were the reason he personally could never live in Launceston: "my idea of a night out is a night in bed". We had heard that Tassie was suffering a chronic shortage of 18-35 year olds due to lack of local opportunity, but this view did seem a little extreme. Our tourist guide's only other comment was in relation to the rain: "Tassie is beautiful wherever you go, just as long as it doesn't rain: then it's terrible".
After marvelling at the ability of our pommy friends to whinge about a place even when are paid to talk it up, we hopped in the car and followed the Boags signs to Launceston.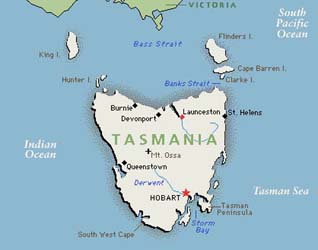 From Devonport to Launceston....
Wild Man woke up just as we were driving through the main road, King Street. "Where are we?", he asked sluggishly, "Christ I'm dry". Looking about he obviously spotted something he recognised. "Commercial", he said. "What?", we asked. "Commercial", he repeated. And then repeated it again. "But we wanted to go to the Boags Brewery", we said somewhat meekly.
Ten minutes later we were sitting at the bar of the Commercial Hotel, downtown Launceston. It was a typical Aussie pub - there was one middle aged bloke with a big old hat whose seat obviously matched the contour of his behind. There was also a bloke intently looking at the horse race playing on one of the TVs in the corner. The barmaid spotted us and asked what we wanted.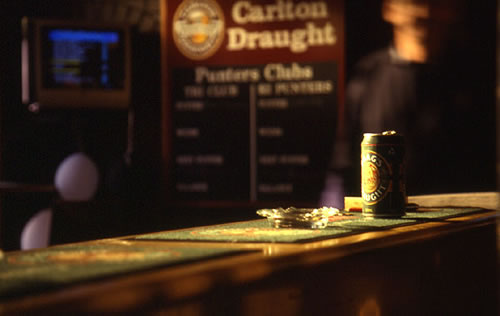 View from the Commerical Bar
"Ah, a couple a Boags thanks", we said, guessing the local lingo.
"10 ounce?"
"Ah, yes, thanks".
Ah, so finally we had stumbled upon a part of the country that used ounce measures. She pulled us a couple of tens of Boags Draft - one of the two beers on tap. The other had VB - Australia's national lager.
We were enjoying our first Boags in a Tasmanian pub when the old bloke sitting down from us started up with a good old song. We didn't recognise it. Whether or not this was because it was some traditional Tasmanian tune or because he was slurring his words we weren't sure. We did think it was in English though. Unfortunately before we were able to confirm this the old barmaid cocked her face to one side, grimaced, and said softly, "Sing it on the inside Sprocket, the innnside....". Sprocket mumbled something into his drink, lowered his hat and was silent.
It was uncomfortable for a moment before the barmaid noticed our drinks were low. "Whadda after", she said. Caught off guard, we instinctively responded with "two VBs". "Cans or stubbies?", was the reply. "No, draft", was our response, not wanting to pay for the container when we didn't have to. The barmaid looked at us as though we were idiots and then proceeded to pour us each a Boags Draught.
"What about our VBs", I said, quietly.
"You bloody idiot", said Wild Man. "What do you think you'll get when you ask for a Draught?".
We pondered on the complexities of ordering around this great country as we consumed our second beer. In our third we branched out with a classic Boags XXX Ale (a "red"). By our fourth we were really starting to enjoy Australia's smallest state.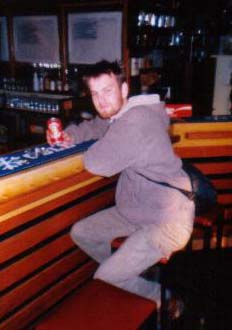 Wild Man with a Boags XXX Ale
| | |
| --- | --- |
| It was after about our 10th local beer that the Wild Man turned to us and said, "What do you know about a beer drinking pig?". Our eyes widened as he drained the last of his can. "Come with me", he said, as he made for the door. | |
Take a break from drinking like the author of this article did - Read why and how in his book Between Drinks: Escape the Routine, Take Control and Join the Clear Thinkers