Court House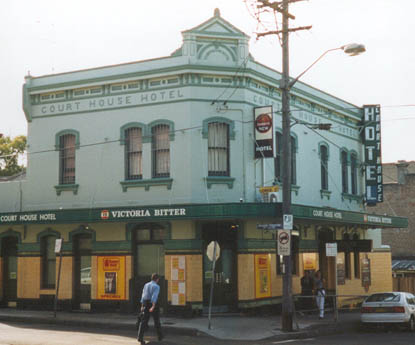 The Court House Hotel in Australia Street, Newtown
The first pub on our list was the Court House Hotel. Named after the real Court House further up the road (presumably to attract the crims for one last drink), the Court House dates back to earlier this century. Rumour has it that the owner of the place is an ex-copper, and he can occasionally be seen enjoying a beer or two with his guests.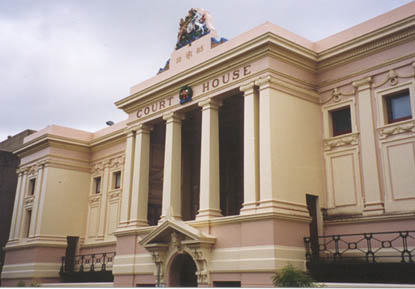 The real Court House in Australia Street
Like many Sydney pubs, the Court House is deceptive from the outside. It looks friendly enough, but one has no idea of the sheer size of the place from the building itself. We note the sign enticing us to enter with the promise of "a bloody great steak at a bloody great price!". One has no doubt it is Australian, if nothing else.
We decided to wander in and check the veracity of the steak claim at least. By the looks of the main bar, it was apparent the place is popular. The typical Sydney beers are on tap, although there is no chance of getting either a Swan or a XXXX either for love or money. A couple of old codgers were sitting down at the front of the bar - nothing unusual in that by itself, but they were proudly sporting a Court House t-shirt. Looks like the owner knows who butters his bread in any event. A good start.
After helping ourself to a couple of schooners of VB, we wandered further through the pub. The obligatory pokies are tucked away to our left, with the similarly obligatory old fat woman playing them. Quite sad really, but each to their own.
It is only when you reach the back steps that you realise what the Court House has to offer. A traditional Australian beer garden that puts most others to shame stares you smack in the face. A huge barbie to the right sends a shiver down our spines. You bloody beauty.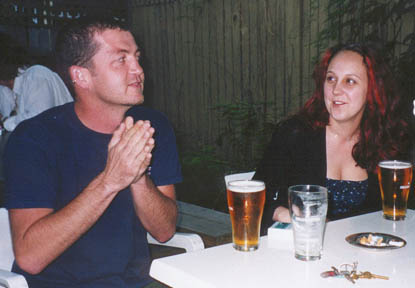 Newtownites!
We joined one table that sported a friendly face. A couple of the blokes were from Melbourne and confirmed what we suspected. This place is a cracker.
We tend to come down here on a hot Sunday arvo for a few quite ones. Bloody excellent.

Court House Patron
As they sat around the table, telling yarns and shouting each other beers, we joined in the merriment and ordered ourselves steaks. They were a bloody great price, and weren't all that bad. All in all - two thumbs up for the Court House.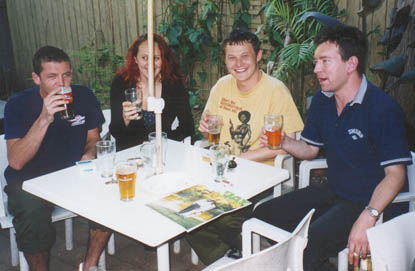 This really is the life
Now that our job here was done, we asked the patrons where we should venture next. They debated among themselves for about half a beer before deciding unanimously that the Townie was the next logical place on the list. They always went there when the Court House closed they said. In fact, they'll be there soon.

Well, we just might see them there, mightn't we.
Take a break from drinking like the author of this article did - Read why and how in his book Between Drinks: Escape the Routine, Take Control and Join the Clear Thinkers