Great Britain Hotel - Melbourne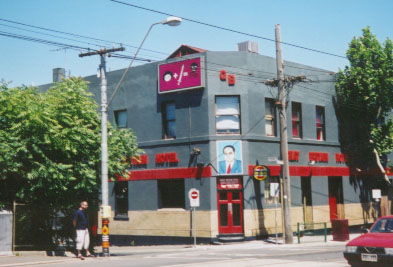 The GB
Now, as soon as AustralianBeers.com became aware of the delightfully Australian lager, Piss, we had to find out who was behind it. After a diligent search using our usual sources, we came across the name Chris Hodges of Melbourne. Further investigation revealed not only did he have a hand in brand creation, but he also co-ran one of Melbourne's drinking institutions - the Great Britain, where it was said you could get this Piss beer on tap.
And so began the Piss quest, so to speak. First stop, Melbourne. Now to be frank Melbourne is a city that hasn't seen as much of our reviewers as it deserves. As one of Australia's older cities, it does have a full complement of significant pubs, such as the famous Young and Jacksons. And we will get to them. All. Eventually.
But not on this session. And so we hopped on the plane with high but measured expectations, and while sampling the plane's wares mulled over what we knew about this Piss beer. A new brand. Projecting an anti-establishment, anti-big guy image. It had managed to catch a lot of peoples eyes, but we didn't actually know anyone who drank it as a staple. Yet.
After spending several hours trying to figure out this Melbourne tram business (don't they know trams went out of fashion in the 30s?), we gave up and jumped in a cab. Before we knew it, we were in the GB, as it is known to some, and the man himself was pouring us an icy cold Piss. Even now that is difficult to say, but it actually happened.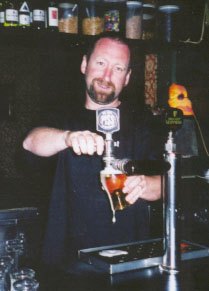 Chris Hodges taking the Piss
And so we were sinking piss from the source, so to speak. Between gulps, we asked Chris how the beer was going. "Great", was the reply. "Its our best selling lager on tap". Looking around, we couldn't see any other mainstream lagers on tap. But people must be buying it, because we knew the pub was going well. And aussies do like their lagers. And outside the pub? "It's picking up", he said. "The real question is whether or not people will continue to buy it after they check it out. We have had quite a bit of interest from the UK though". We mentioned that we had seen people drinking it in a news story (not about Piss) about something in the outback. Chris's eyes lit up. And why wouldn't they.
Chris then took us on a tour of the GB. To us it seemed to have a real Melbourne pub feel about it: a groovy, sort of anti feel. The sort of place that is filled with couches, and dark corners, and lamps and colour. A young, but not too young, look. Don't get us wrong, Melbourne is large, and has plenty of old man pubs. But this had a real Melbourne feel to it, which pleased us greatly.
We continued downstairs, into a sort of converted cellar-cum-nightclub. Chris explained that they closed the pub down in the afternoon, and reopened it at night. "If we keep it open all the day-drinkers, typically old men, stay in. This can scare the night crowd off". By this time a worker had arrived to officially open the pub for the evening (we were being given a 'special' tour). The first thing this involved was setting up the kegs. Being interested in all things beer, we followed the worker down the trapdoor and into the bowels of the GB. We always wondered how it worked....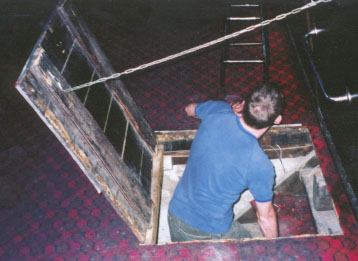 Down we go...
Watching all that work had made us thirsty, and so we settled down for a few more Pisses (we're not yet sure what the plural of piss is in this context?). Before too long, we were staunch backers of the new Aussie drop, and were giving Chris all the advice we could on a worldwide strategy. He listened patiently, and when we were done, kindly offered to give us a lift (perhaps before the evening crowd came!). A generous host.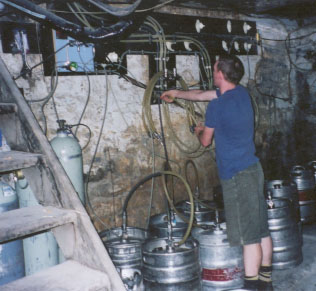 Hard Piss Yakka
So in all, a delightful Melbourne experience, and we highly recommend you drop in for a taste of this rare Aussie drop.
Here's to your new brand, Chris, and AustralianBeers.com wishes you every success in taking Piss to the world.
Take a break from drinking like the author of this article did - Read why and how in his book Between Drinks: Escape the Routine, Take Control and Join the Clear Thinkers