The Brekkie Creek
The Breakfast Creek Hotel has been a Brisbane tradition since 1889 and has grown to become one of the city's fondest landmarks. There aren't many in this fair city that haven't attended the hallowed halls of the "Brekky Creek" for an afternoon of good steak, a fine wine and an ice cold beer.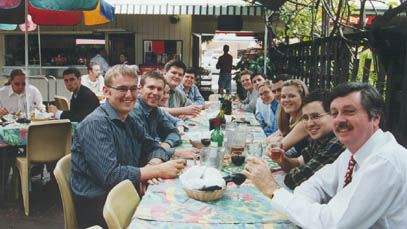 Aussies enjoying a fine day at the Brekky Creek
The "Brekky Creek" is the place that all Brisbanites remember with a grin that brings back a great afternoon, evening or one that turned into a night out. But what describes "The Creek" best is that it is the essence of Brisbane. It's the place where you can get your rump, eye fillet or T-bone cooked to perfection topped with mushroom, pepper or chilli sauce, served with an Idaho potato and topped with the "The Creek's" famous bacon topping, fresh crisp coleslaw and washed down with a classic wine or a cold beer.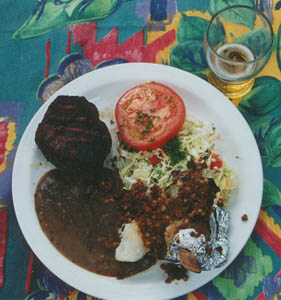 The Famous Brekky Creek Steak
The Breakfast Creek boasts five bars including the renowned Spanish Steakhouse and the tropical Staghorn Garden. In the newly refurbished public bar you can soak up the faithfully restored interior while you enjoy beer "off the wood", served the old way out of a wooden keg.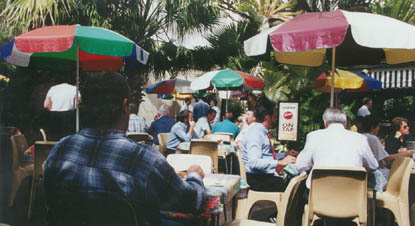 Discovering what life in Queensland is all about
This is one of the places in Brisbane you take visitors to understand what we are all about, who we are, what our lifestyle is and why we are happy with our lot in life. Whether you are a regular, a first timer or want to relive old memories, the " Brekky Creek " will never disappoint. Nothing compares to a lazy Brisbane afternoon at "The Creek" with good friends, good food and a cold beer.
Take a break from drinking like the author of this article did - Read why and how in his book Between Drinks: Escape the Routine, Take Control and Join the Clear Thinkers