Thirsty Dog

Brewer Castlemaine Perkins has launched a new full strength beer to combat the flood of trendy alcoholic club drinks. Thirsty Dog is the first new beer to come from the Lion Nathan subsidiary since XXXX Gold in 1992. The wheat and malted barley full strength beer is poised to take on the 18 to 25-year-old market, an age bracket previously ignored by the brewer in favour focusing on working man appeal. Gone is the old look yellow and red labels with brown bottles replaced by a 345ml clear bottle contemporary club feel. The winking fourex man has been moved out by a cattle dog icon, with the XXXX stamp of approval on the neck the only link to its older stable mates. In fact if it weren't for the XXXX label it could be mistaken for an alcoholic cider.
The Launch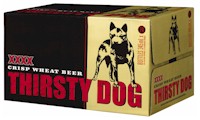 Guests at the launch on the 31st October 2000 were welcomed by a cattle dog Dara at the doors of Brisbane's chic Circa restaurant. Once inside the senses were bombarded by the youth feel, girls in tight black T-shirts with "beg" stamped on them dispensing the product to the sounds of thumping trance music. Castlemaine Perkins Marketing Director Margaret Zabel says research indicated that current mainstream beers in the market place fell well short of young adults' need for a new beer story with attitude and personality. "They're are looking for something new, something different," Zabel said.
Yeah but does the dog bite?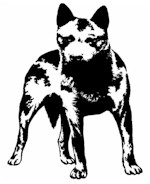 According to Castlemaine the beer has been brewed using a combination of malted barley and wheat, which delivers a crisp smooth taste and an invigorating and refreshing drinking experience. Thirsty Dog, Queensland's first wheat beer, is clearly differentiated in the XXXX family and has its own personality, but at the same time the brand enjoys the credibility and brewing expertise of the entire Castlemaine Perkins portfolio. Lion Nathan Head Brewer Bill Taylor says the use of wheat malt in the brewing process helps delivers excellent taste and head retention, as well as a brilliant golden colour. "Wheat beers have tremendous thirst quenching properties, which make them an ideal for Queensland's hot climate," Taylor said.
Thirsty Dog is an uncomplicated beer that is easy to drink with a refreshing quench. It is refreshing to see a new beer on the market from one of the big players and a wheat beer at that. This beer is well suited to its market who wants a simple beer that is easy to drink without the complex bitterness and aftertaste. Purists might shelve this brew as another light Aussie lager variety but every beer has its place and market. AustralianBeers.com is just grateful for the choice of a new wheat beer whether the drinker is out at a club or just wants a refreshing break from the turgid tastes of complex flavours.
Food For Thought:
This beer was designed for the youth market and as such anything goes. Try Thirsty Dog with a chupa chup next time you visit your favourite club or to wash down the taste of the last shot of tequila. Thirsty Dog would also be a perfect breakfast beer or hair of the dog. For the rest, Thirsty Dog is a light tasting wheat beer and as such would be a great starter at a restaurant with the breads or for the opening round at lunch.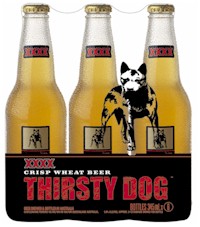 Where and When?
Thirsty dog will be available only in Queensland first before the rest of Australia gets a shot. The brand will also have an interactive website www.thirstydog.com.au. Castlemaine spokesman and Marketing Director Margaret Zabel admits today's youth market present some very specific and interesting marketing challenges and Castlemaine is to pursue the youth market with vigour with the label's performance to be evaluated in 6 months.
Chat about this on our message board.
Take a break from drinking like the author of this article did - Read why and how in his book Between Drinks: Escape the Routine, Take Control and Join the Clear Thinkers