Emu Export
| | |
| --- | --- |
| | This Western Australian brew comes from Lion Nathan's Swan stable. The clean light yellow lager was first launched in 1954 by Swan. This beer is one of Australia's bread and butter lagers providing a clean, fresh taste with a watered body building up to a malt crescendo with a strong bitter finish. Emu Export is toted as a medium bittered and full bodied beer with a crisp clean taste perfect for the west's hot, dry climate. |
This would be an accurate description of the lager. It is what Australia is known for when it comes to beer, lagers with clean fresh taste and a tight bitter finish. This is a beer that you don't have to think about, parse or dissect, just drink. It's an easy beer, like when you go to the movies and you just want to see something by Warner Brothers rather than the latest David Finch expose on the intricate workings on the existentialist dichotomy of the human mind. If you want to just clear the cobwebs and take a load off your feet then grab a cold chilled stubby of Emu Export.
The Beer's Name-Sake, Outback Western Australia
Like most regional beers (such as XXXX), Emu-Export can inspire passionate loyalty in its drinkers. Recently, AustralianBeers.com was out reviewing remote pubs in outback Western Australia. In one old pub literally in the middle of nowhere (Ora-Banda), we spotted one bloke covered in tats when he wandered out into the beer garden and said good-naturedly to a breast-feeding mother (who was concurrently feeding herself Jack Daniels), "How's ya tit mate?". When our reviewer followed this charming man inside to get a beer he asked him what he was drinking. "Maate", he said, "Export mate", "Nectar of the gods mate, nectar of the gods". And he was deadly serious.
Food For Thought:
Like most good old Aussie lagers Emu Export is an excellent accompaniment for seafood flavours. The unobtrusive malt flavours coupled with the clean bitter finish make it excellent with most simple dishes from the sea. Try Emu Export with a lobster or as some of us call them a fresh cray. Simple is the best way to go, fresh boiled with a light cream dill sauce, chilli flavour or just straight from the pot. Export goes well with all the traditional light seafoods like grilled reef and pelagic fish with light sauces and flavours. The smooth malty undertone also and clean lager flavour make it a match with most asian cuisine. For a bit of a different from you usual Thai curry or Chinese lamb try Export with a Nepalese spicy dish - the goat if you dare.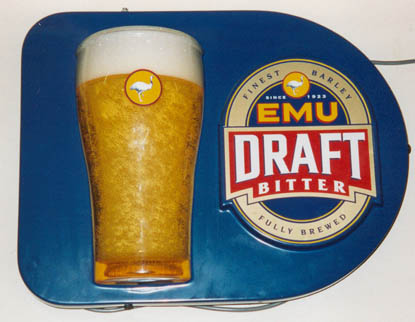 Export's Cousin - Emu Draft, Western Australia
Take a break from drinking like the author of this article did - Read why and how in his book Between Drinks: Escape the Routine, Take Control and Join the Clear Thinkers