Cascade Special Stout
"Tasmanian beer has an international reputation"
Queen Elizabeth, March 2000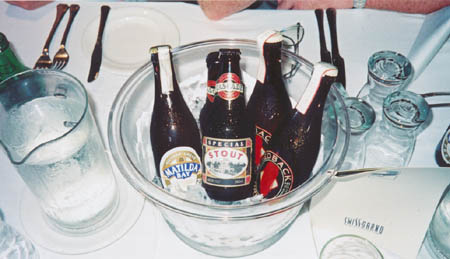 Cascade with style
Cascade's 1824 brewery has produced a Special Stout that is hearty and flavoursome. The batch brewed stout utilises roasted barley and a strong infusion of Tasmanian hops. The full body, strong roast character has big finish with bitter aftertaste making this stout a drink with backbone. The thick head belies a full body and smooth roasted character permeating the dense flow over the palate. Like a lot of bottled stouts Cascade Special loses a little of the head endurance that a stout drinker savers. However Cascade Special begins with a great aromatic head, follows with that great burnt barley flavour and leaves the drinker with a warm and satisfied palate. Comes in 345ml bottles. (5.8% alc/vol)
The hearty boasted barley flavour make this stout a drink to be partnered with the stronger flavours in cuisine. Try Special Stout with robust cheeses and rich desserts such as pudding, mud cake and chocolate truffles. A drink that is a meal in itself, this beer can be savored at the end of a meal with a good cigar or with a great liquor dessert. Try Cascade Special Stout in a brandy sniffer for maximum enjoyment.
Take a break from drinking like the author of this article did - Read why and how in his book Between Drinks: Escape the Routine, Take Control and Join the Clear Thinkers